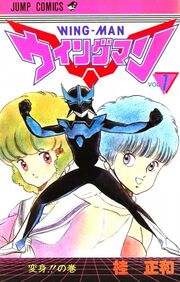 Wingman
Kenta is a young boy who dreams about being a super hero called Wingman. All his classmates love it when he disturbs the courses to apply his holy judgment, as much as the teacher hates that. One day while coming home he finds a beautifull girl in a bikini. Aoi Yume, she gives him a wonderful item, the book of dream which can make anything written on it true, and so began the life of the real super hero for our dear Hirono.
Ad blocker interference detected!
Wikia is a free-to-use site that makes money from advertising. We have a modified experience for viewers using ad blockers

Wikia is not accessible if you've made further modifications. Remove the custom ad blocker rule(s) and the page will load as expected.